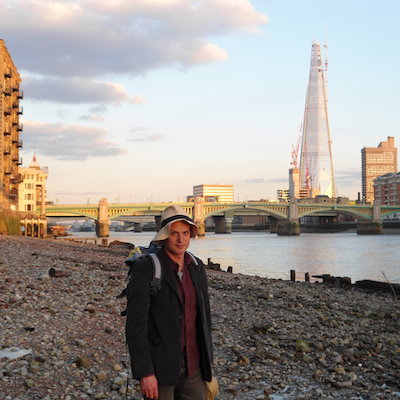 Since first showing work at the Monica Jones Gallery, Leighton Buzzard, in 1979, Lawrence Freiesleben (born at Hammersmith in 1962) has exhibited widely, mostly in London and the South-West, having had more than forty one person exhibitions and numerous group shows at venues including the old Margaret Fisher in Hampstead, the Mermaid Theatre, and the DeMorgan Centre in London.
In 1966 his family moved to a newly built house on a council estate at the edge of the expanding town of Aylesbury, where in 1974 he found himself at the Aylesbury Grammar School. Briefly attending Amersham Art College after 'O' levels, Lawrence then moved to the recently founded Redfield Community, which still thrives to this day. The paintings he did at this time as well as deriving from the North Bucks landscape, frequently featured the decaying grounds of the old mansion – during the war an obscure Government department.
Selected additional exhibition venues include: Alpha House Gallery, Sherborne, Dorset; Bridport Open (First Prize in both 1995 and 1998); Buckinghamshire Museum & Art Gallery; The Burton Galley, Bideford; Camden and London Group Open Exhibitions; Dartmoor Gallery, Princetown; The Guildhall, Cambridge; The International Art Fair, Olympia; Logos, London; Maltby Contemporary Art, Winchester; The Martin Gallery, Framlingham, Suffolk; Maymie White Contemporary Art; Plymouth City Art Gallery; The Queens Hall, Edinburgh; Salisbury Playhouse; The Salthouse Gallery, St. Ives; Southampton City Art Gallery; Spacex Gallery, Exeter; Walker Gallery, Harrogate;
"He was unaware how far his paintings had strayed from normal life . . . into a distant realm whose strange and dominant vitality he would never be able to explain. This pretentious, absurd, idea of Truth, blithely skating over most of the designations of morality, was not open to compromise." (from Estuary and Shadow).
---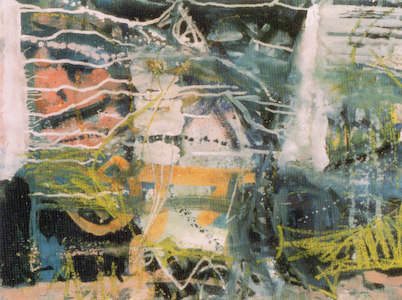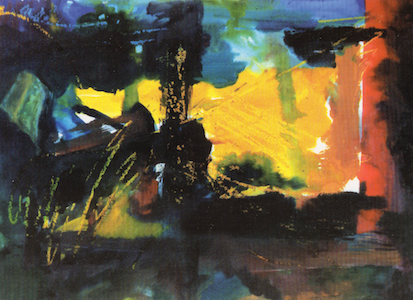 ---
"A sense of immanence, of the apprehension of threshold is what increasingly, I always search for through paintings – the sense of a fuller reality beyond the world of appearances."
---
He has also always written: essays (chiefly on film), diatribes, poetry... His early, experimental novel The Bow, was first published in 1983 and a revised edition (described by the late Colin Wilson as "full of brilliant ideas and images" and by Brian Louis Pearce as "A liquid, lyric prose achievement of a high order...") was reprinted by the independent publisher Stride in 2000. In 2013 he finally completed Maze End and though not exactly conventional, this is more accessible than The Bow, and begins in a paradise garden with the narrator looking back on his "22nd Try" at life.
"Many years ago I was a musician in a couple of obscure late 70's bands. This was particularly useful experience for my third novel, Certainty Under the Rose, a searching love story set in the south-west of England in the early 1980's. Certainty Under the Rose forms a vague parallel world to Maze End, and is also more closely echoed in the novel I'm currently working on, provisionally titled Estuary and Shadow."
---
"As a writer my underlying aim is to question the meaning and direction of the world: philosophically, morally, politically . . . my aims as a painter are inevitably less clear, more metaphysical."
---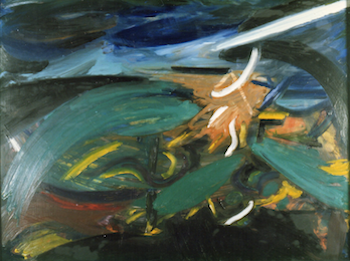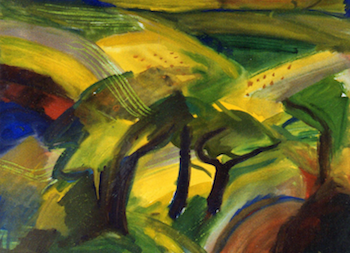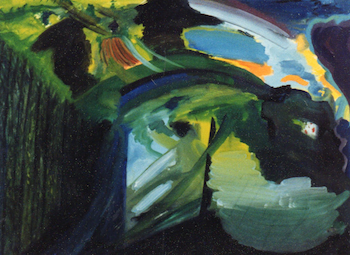 ---
---